Rent a Luxury Limousine Bus in Toronto
We have the biggest and most extravagent selection of party limo buses!

View Our Fleet
Star Night Limo Party Buses
Star Night can provide you with the most exciting fleet of limo buses in Toronto and the GTA. We have an amazing fleet of party bus vehicles as well as the most comprehensive Toronto limousine bus fleet for prices that may surprise you.
Luxurious Features
Our limousine buses come equipped with state-of-the-art features such as flat screen LCD televisions, surround sound, laser light ceiling, luxury seats, iPod/mp3 connectivity and a minibar. Of course, for special occasions such as weddings, your minibar will be stocked full of cold beverages. We can accommodate all special requests, all you have to do is give us a call and let us know what your wished are. Our part is to make them come true.
Large Capacity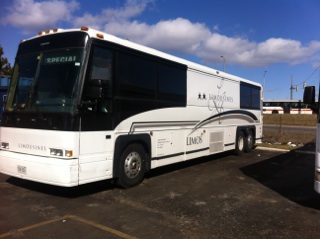 The capacity of our party buses can range anywhere between twenty passengers and up to forty-five passengers. We also have the largest buses in all of the GTA. Some of our vehicles can even carry more than that. However, these may require special reservations. The best way to know is to call us and ask about the availability of the limo bus that you would like to rent. Our customer service staff are very friendly and knowledgeable. They can help you get the Toronto limo bus that will make the most sense for you and your companions. They can also ensure that you book your vehicle in time to ensure it is reserved for you on the requested date.
Special trips such as those for bachelor parties and proms are also available. Consider using one of our limo buses for your prom because you can split the cost among many friends. That can end up making your prom limousine bus very cheap and affordable. If you are not sure how much it would cost to rent a prom party bus, let us know, and we can help. All you need to tell us is the date of the event and the number of friends who will be sharing the ride. We'll do the rest and will give you an easy price per person, so you can tell you friends about how affordable it is to use one of these luxury vehicles. We've just made it easier for you to be the organizer of the event.
Satisfaction Guarantee
Furthermore, we delight in providing the most comprehensive customer satisfaction guarantee in southern Ontario. Our chauffeurs and our staff are dedicated to providing you with the most memorable travel experience of your life. We work hard and take every precaution to make certain that your vehicle will arrive at your destination on-time. We also work with our drivers, our chauffeurs and our customers to make sure that you know what to expect. We offer advance viewing as well as providing pictures on our fleet page. Please feel free to check out some of these pictures and do not hesitate to call us if you have any questions.
Whatever your event, get the luxury ride that you deserve. Don't settle for anything else because, with Star Night... You're a Star!